Diesel Generated Album Mickey and Annie's place is "Off the Grid". There are solar-powered panels up on the hill, gas bottles alongside the house and studio, and a Generator in a shed below the studio. We recorded and mixed as winter came, and there was little sun – solar power was minimal, so regular trips to the service station to fill up with diesel were needed to top up the Generator. From this I became part of the off-the-grid crowd, regularly greeting other locals at the servo topping up with diesel to keep the power on. Mickey would always check the charge percentage to make sure there was enough power to turn the generator off. The hum of the motor was a constant in the background, except when we were recording. During the ten days I was there to record...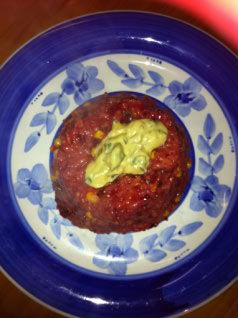 Beetroot Risotto with green chilli coconut and mint sauce — courtesy Mickey Levis  1 onion or leek 2 beetroots grated or chopped very finely. 2 cups Risotto rice Olive Oil 2 litre Vegetable stock Cook Onion and rice in oil until rice starts to colour. Add stock a cup at a time and cover and let simmer until moisture is absorbed. Keep adding stock cup at a time and simmering until rice is cooked. Add grated beetroot, turn off heat and leave covered for about 10 minutes. Sauce Heat some olive oil in a small saucepan Add some fresh sliced green chillies and cook for a few minutes Add  juice from two good sized lemons Add ½ cup good quality Coconut Cream and bring to the boil. Add a handful of roughly chopped fresh mint leaves. Turn off...
ARTGROUPIE 2012 AN EXHIBITION OF VISUAL ART BY MUSIC MAKERS FEATURING REG MOMBASSA + PETER O'DOHERTY MENTAL AS ANYTHING / DOG TRUMPET STEVE KILBEY THE CHURCH
MICK TURNER DIRTY THREE + MANY MORE Groovescooter Records, da dAdA and Eastside Radio 89.7 present the return of ARTGROUPIE – a series of collective art exhibitions featuring musicians, producers, DJs and vocalists who also work as visual artists. After a huge turn-out to our last exhibition, this 3rd staging of ARTGROUPIE includes new paintings, drawings, photography,video work, installations and more, from an eclectic group of local noise-makers, and offers a fresh insight into the artists' imaginations. For 2012 we've also added a second room of music photography by former NME staffer, Bleddyn...