A Bit Part and Old Friends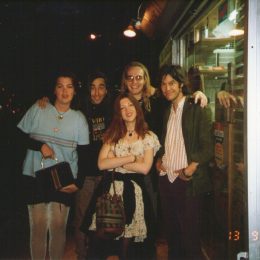 In 1992, I had a bit part in The Lemonheads video clip, Rockin' Stroll (http://www.youtube.com/watch?v=mYJtaZbGIl0) when I was fortunate enough to be working at the Half-a-Cow Books, Comix & Records store on Glebe Point Road with Nic Dalton.  I recall cups of tea in the one cup teapot and bread rolls with cream cheese, cheese and tomato, gee they were good!
At this stage Nic was playing bass for The Lemonheads, and the previous bass player, Jesse Peretz (Our Idiot Brother release fame, http://www.youtube.com/watch?v=JWA5oaIbrpE) was making the video clip.  He was filming on Glebe Point Road and popped in to the Half-a-Cow store, and asked if I would like to be in it, 'OK!' It was a fun time to hang out at the store.
The main characters, other than Evan, were Robyn St Clare, from The Hummingbirds who wrote Into Your Arms (http://www.youtube.com/watch?v=9D7wXD1XeQs), and in the pram, her son, who incidentally now produces beautiful music of his own. The song Into Your Arms was previously released by The Love Positions, on the vinyl album, Billiepeebup.  Love Positions was Nic Dalton and Robyn St Clare's band, and they started in their home town, Canberra, where a lot of musicians drawn to Troy Horse studios in Newtown came from, including, The Falling Joys, The Plunderers, The Shout Brothers, The Lighthouse Keepers, The Gadflys, Peg, Crow, Sidewinder, and the list goes on….  Robyn also wrote a beautiful song called Miles To Go (http://www.youtube.com/watch?v=F3ykOAIlROY) which was on The Hummingbirds classic album LoveBuzz.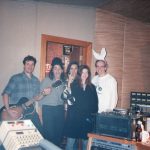 In 1993, Nic suggested that Swirl mix The Last Unicorn at Fort Apache Studios in Boston with Lou Giordano, Husker Du live engineer. Nic had worked with Lou on the Sleeper album which he released in 1993 under his band name, Godstar. Other members of the ever changing line-up of Godstar included Tom Morgan and Alison Galloway from Smudge, members of Boston band Fuzzy, Evan Dando and David Ryan from the Lemonheads (the track Go Now on Coastal being the last ever recording by this line-up of the band), John Encarnacao, Tania Bowers and Robyn St. Clare from The Hummingbirds.
When Swirl finished mixing The Last Unicorn, I remember Lou, Ben, David & I driving around Boston streets in Lou's car listening to the album.  Lou said you need to listen to music on a car stereo to get a better perspective of how it will sound.  It was great advice and I smiled many years later when I heard the same comment made in the wonderful Irish film, Once.  It was serendipitous that we could combine mixing and touring in the US.  Swirl had made contact with Marc Alghini at Dirt Records in New York, and were planning a tour, including a show as part of the CMJ Music Seminar, and a US release Touch, through the label.  Marc had released Today, Galaxie 500's first album, through his label Aurora in 1988. Our 8-track CD Aurora released through Half a Cow had caught Marc's eye in a record store, the title was the same as the label name and this caught his eye.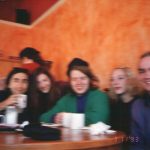 Nic had teed up for us to stay at the share house of the band Fuzzy while in Boston, (http://www.youtube.com/watch?v=ZTmIiYcd3Ow again directed by Jesse Peretz in 1994, with The Lemonheads drummer Dave Ryan playing drums).  They were a band he'd met and he also later released some of their recordings through Half-a-Cow.  This photo seems apt given the fuzziness, couldn't help it, lovely people, grateful for their hospitality and I recall sitting in the café the picture was taken in, a funny conversation about our different dialects, and them asking, what's a nappy? Diaper! Then suddenly looking out the window and a van drove past with a big sign, Diapers – I'm not kidding – we all looked at each other and laughed.
In 1994, we found ourselves back in New York for three weeks before touring across the US. This time we met up with Nic & Mandee Barron (in featured image).  Mandee was in a band named Carton with Alison Galloway on drums from Smudge (of 'Alison is starting to happen' fame – http://www.youtube.com/watch?v=4I6mvK3k6SM) and Kellie Lloyd who played bass in Screamfeeder (http://halfacow.com.au/shopping.php?page=artist_bio&artist=A005)
One night while having drinks at a pub, the guys from You Am I showed up, as they were also in the States at the time.  It was a great feeling being connected to old friends while far away from home. Ben is still annoyed that he had to say no when the You Am I guys asked him if he'd like to come in and play guitar the following day on the new album they were recording – Hi Fi Way! Alas we had a gig booked out of town.
More recently, talking with Mickey Levis about this time, he recalled Nic had written a song for the Plunderers called "How could you fall for Johnny Depp", then one day Mickey's phone rang – it was Nic in New York, saying, 'Man, you'll never guess who I've just been busking with in New York playing the song "How could you fall for Johnny Depp" – Johnny Depp! Johnny Depp was the main character in It's A Shame About Ray [http://johnny-depp.org/projects/documentaries/shame-about-ray/]  I remember Nic telling me Johnny Depp had bought Jack Kerouac's hat and satchel. I'd just read On The Road at Half a Cow, expanding my Beatnik American literature with authors like Bukowski and Kerouac.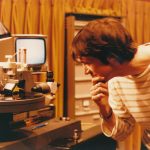 Good memories, and more still to come as Jarrad Kennedy is making a documentary about Nic Dalton and his record label, Half-a-Cow Records. It's called "If It's Catchy It Means You Stole It". https://www.facebook.com/ifitscatchy
Stay tuned.