Vinyl Appreciation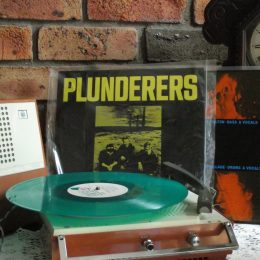 We went to buy fruit and veg at the market, and stopped in at the second hand wares stall and noticed the record sale. Vinyl – 6 boxes full. We began looking through and came away with The Triffids – You Don't Miss Your Water till your well runs dry, blue colored vinyl, The Saints – All Fool's Day, The Church – HeyDay, Split Enz – True Colours, Skyhooks – Guilty Until Proven Insane, Elvis Costello – This Year's Model,   and the prized possession was a green coloured vinyl, The Plunderers – Trust Me.
So back to the lounge room, it's Friday night, and I go and get the only record player in the house, an old AWA Radiola, a small box, the lid is the speaker, the on knob isn't turning on, it's a bit old and sensitive, finally it clicks and the turntable begins to spin. Elation!
First up, The Triffids, recognise that voice from Wide Open Road and Bury Me Deep In Love. Then The Plunderers, I noticed as I put it on 45 rpm it's not as written on the record, switched to 33 rpm, and heard the familiar voice of Nic Dalton from all those years ago, those gigs at The Lansdowne and The Hopetoun when we (Swirl) supported them starting out, first show we ever got with them was at The Hopetoun Hotel, under their pseudonym, Hippy Dribble. Listening, really listening, Nic's chord style bass playing that inspired me, Stevie's distinctive guitar playing and voice, and a surprise, Louis Tillett's piano playing on End of Your World.
I know people have said it before, but there is something about the physical ritual of placing a record on, listening, and when it reaches the end of side A, lifting the stylus and turning the record over, and carefully placing the needle down to listen to the other side.
The detail, listening to the arrangements, the distinctive sound of vinyl through the speaker has a certain characteristic you can't beat for ambience. Am I old-fashioned, just finding a way to sit down and appreciate music again, the way I did as a 14 year old kid in my bedroom alone, with another small record player – sitting on the floor with my second hand stash of David Bowie records and Peggy Lee and Cyndi Lauper for the first time, really listening to some amazing voices and instrumentation. Maybe now it's the reminder of those magic moments where it is all new, the experience of music appreciation.