Castlemaine Coffee Tour 2012 – by Drew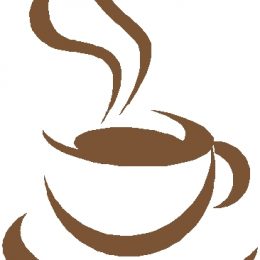 One of my favourite relaxations is reading my morning newspaper. As a sport, politics and share market junkie, newspapers are marvellous things. Fortuitously this hobby has been nicely complemented by the booming coffee culture that has taken hold across Australia over the past 20 years. I can now venture almost anywhere, pull up a seat and happily do my own thing sitting in the corner by myself with a paper and coffee. So when I recently found myself staying in the Chewton Hills just south of Castlemaine, with time to kill, a local coffee tour was a no brainer.
First stop was Pepe's. Now to be honest, Pepe's isn't a cafe as such, its' actually the lounge room of our friends Mickey and Annie. Mickey was recording an album for my partner Nicola, who in the excitement of spending a few weeks as a full-time muso again, had for the first time in history leapt out of bed before me, and was by 8am happily ensconced strumming away in the studio. Meanwhile, I'd dragged myself out to the fire and was making friends with Annie's dog Pepe. This wasn't hard, as Pepe is a nice little dog with some acute separation anxiety issues, so was happy to find someone willing to just stand around with him by the fire.
Luckily Mickey had noticed this little scene from the kitchen and surmised that I was suffering from acute coffee intake deficiency, so came to my rescue with a beautiful home-made cappuccino. Now as a general rule, I don't do soy. In fact it still freaks me out every Saturday back home in Canberra when I meet an old school friend for coffee and he has a soy-latte and muesli – how we morphed from long haired 80's headbangers to soy drinking muesli eaters remains a mystery – but I digress. My soy-cap from Pepe's was sensational – hit the spot perfectly! So if you have the chance, I highly recommend grabbing a coffee at Pepe's.
Next stop was the studio, no coffee there, just lots of first day tweaking of computers and tuning guitars. After an hour or so, I realised that there wasn't a lot my Yoko Ono style presence could add, so I wondered off to Castlemaine in search of a paper and coffee shop. Luckily the first coffee shop I found was Saffs. I really like Saffs – while the coffee is good, not great, the whole place has a great vibe.
To me, coffee shops are all about the vibe. Like Saffs, my local back home in Canberra, Idelic in Kingston, has good but not great coffee, however it beats all of its neighbours for vibe. Idelic is a few doors away from Canberra's famous (infamous) Silo, which does amazing coffee, but is a place you go to be seen, not to relax. Whereas Idelic is the place locals go to meet friends, hang by themselves with the paper, or just chat to the owners and staff. Saffs has a similar vibe – very friendly staff, a welcoming feel, and a big communal table.
I love coffee shops with big communal tables. In Australia, the big communal coffee shop table is, alas, the only thing we have that comes close to a British pub. Whereas in Australia, once you have your table in a pub your territory is marked out and anyone who comes close is looked at with suspicion, in the UK, if there is a spare seat at your table someone will sit down and say hello. Its the best way to meet people – I love it. That said, the poms can't do coffee to save themselves. When I was in London not so long ago, the only place I could get a decent coffee was at Taylor St Baristas http://blog.taylor-st.com/, a small chain run by some friends from Canberra.
But back to Saffs. The other thing I like about Saffs was that they passed my toasted ham, cheese and tomato sanga on white bread test. While I love sourdough, Turkish bread and so on, call me a child of the 70's and 80's, but sometimes you need a toasted ham, cheese and tomato sanga on white bread – and Saffs came through on that front with flying colours. So all up I was pretty happy with myself. I'd been in Castlemaine one morning and had two great coffee experiences.
The next day was Tuesday, and I like Tuesdays. For a start its not Monday, and most places you go its Tight Arse Tuesday at the cinema – then if there is nothing on at the flicks, you can usually find a good pub trivia night on a Tuesday. My personal faves are the Durham Castle Arms in Canberra, and the Ten Bells of Jack the Ripper fame in east London, so I like Tuesdays. Coffee shop wise I was in for another treat. I dropped into Origini and was hugely impressed. It's quite a small space, but the owner is friendly and interested, the coffee was great, the food excellent and the vibe friendly.
Wednesday started extremely well, being treated to Mickey's glutinous free rice pancakes for breakfast at Pepe's – sensational. After that Annie and I wondered into town and after I drove around in circles for a while we finally reached our destination – the Depot – well that's what I called it as it has a big 'Depot' sign above the door. Annie called it the Old Fire Station, as its in the old fire station – but its real name is actually the Re-public. The service and coffee were both good, but the interior, while tastefully done was very new, so to me hadn't really had time to generate an atmosphere of its own.
Thursday was my last day in town, so I headed for Togs. Any place called Togs is worth a look in my book. The coffee and service were good, and there was clearly a dedicated band of regulars, but for me there just wasn't enough natural light. Venues can certainly work without natural light, but I think you have to jam people to compensate, ala Melbourne's coffee lanes.
Overall though, the coffee experience in Castlemaine was a pleasant surprise. The venues I visited were but a few of the options available, and I believe there is even a former Neighbours star running the morning commuter coffee cart at Castlemaine Train Station. So my advice is, fear not, if you are visiting Castlemaine and searching for coffee options, you won't be disappointed.