Art Groupie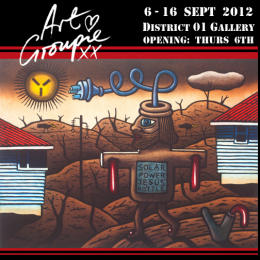 ARTGROUPIE 2012
AN EXHIBITION OF VISUAL ART
BY MUSIC MAKERS
FEATURING
REG MOMBASSA + PETER O'DOHERTY
MENTAL AS ANYTHING / DOG TRUMPET
STEVE KILBEY THE CHURCH
MICK TURNER DIRTY THREE
+ MANY MORE
Groovescooter Records, da dAdA and Eastside Radio 89.7
present the return of ARTGROUPIE – a series of collective art exhibitions featuring musicians, producers, DJs and vocalists who also work as visual artists.
After a huge turn-out to our last exhibition, this 3rd staging of ARTGROUPIE includes new paintings, drawings, photography,video work, installations and more, from an eclectic group of local noise-makers, and offers a fresh insight into the artists' imaginations.
For 2012 we've also added a second room of music photography by former NME staffer, Bleddyn Butcher. Butcher – the man behind Triffids' leader David McComb's biography – will be exhibiting his framed-for-sale portrait photographs of folks like McComb, Nick Cave, Roland S. Howard, The Drones' Gareth Liddiard and Dave Graney, plus live shots.
PLEASE JOIN US AT THE
SYDNEY LAUNCH PARTY
THURSDAY 6TH SEPT 2012
6PM DISTRICT 01 GALLERY
ENTRY: FREE
WORKS ARE FOR SALE
74-76 OXFORD ST DARLINGHURST
ENTRY VIA FOLEY ST, CNR OF CROWN MAP
LIVE MUSIC ON THE NIGHT
BY CHERRY2000 + GUEST DJs
+ complimentary drinks­­
(thanks to Ascella organic wines)
Sound: Bump Productions
+ FREE MEMENTO CD
of music by exhibiting artists
PLUS get yourself/friends snapped in Zac's
Free FOTO-FUN BOOTH