Beetroot Risotto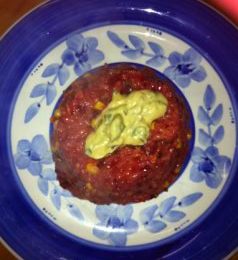 Beetroot Risotto with green chilli coconut and mint sauce — courtesy Mickey Levis 
1 onion or leek
2 beetroots grated or chopped very finely.
2 cups Risotto rice
Olive Oil
2 litre Vegetable stock
Cook Onion and rice in oil until rice starts to colour. Add stock a cup at a time and cover and let simmer until moisture is absorbed. Keep adding stock cup at a time and simmering until rice is cooked. Add grated beetroot, turn off heat and leave covered for about 10 minutes.
Sauce
Heat some olive oil in a small saucepan
Add some fresh sliced green chillies and cook for a few minutes
Add  juice from two good sized lemons
Add ½ cup good quality Coconut Cream and bring to the boil.
Add a handful of roughly chopped fresh mint leaves.
Turn off heat and let sit covered until the Risotto is ready to serve.