Off the Grid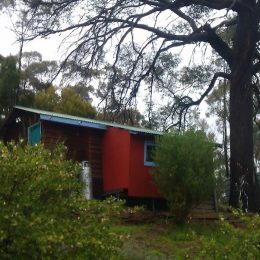 Diesel Generated Album
Mickey and Annie's place is "Off the Grid". There are solar-powered panels up on the hill, gas bottles alongside the house and studio, and a Generator in a shed below the studio.
We recorded and mixed as winter came, and there was little sun – solar power was minimal, so regular trips to the service station to fill up with diesel were needed to top up the Generator. From this I became part of the off-the-grid crowd, regularly greeting other locals at the servo topping up with diesel to keep the power on.
Mickey would always check the charge percentage to make sure there was enough power to turn the generator off. The hum of the motor was a constant in the background, except when we were recording.
During the ten days I was there to record in mid May, every couple of mornings I'd wake, wash my hair then stop and think, computer or hair dryer, I choose computer! I didn't bring my hairdryer when I came back to edit and mix the album for the week in July.
I remember there was a bubbling, choking sound when the diesel was about to run out. A couple of times we missed the signs and it came to a grinding halt, causing everything in the studio – computers, lights, mixing board, guitars and mikes to suddenly shut down. As we became more astute at listening out for the signs, I recall Mickey doing the bolt down the hill to switch off and top up the generator, then coming out of the shed to the familiar sound of it chugging once again, reminding me of a scene from the children's movie classic Chitty Chitty Bang Bang.