Music
2016
Cherry Red release – Still In A Dream shoegaze compilation album features Swirl – The Last Unicorn
Some of my favourite bands feature on this compilation including The Cocteau Twins, My Bloody Valentine, Ride, Spacemen 3 and Mercury Rev.
2012
Independent release – Soundtracks for Carparks album.
ArtGroupie 2012 exhibition include the single, Dance of Life from Soundtracks for Carparks, and photography.
  CDs of Soundtracks for Carparks are available below through PayPal (postage & handling included)
Click on the image below to go to iTunes and hear my new album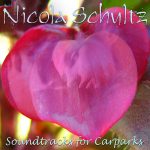 2010
Independent release – Union album, under the name Swan Songs Publication.
CDs of Union are available here (postage & handling included)

Album Launch at the Excelsior Hotel, Surry Hills.
Union was the Official music of the Atom Awards at the Regent Theatre in Melbourne.
2008
Independent release – Searching for the Goddess, 5 track EP, under the name The Lotus Press.
I played some small gigs at UQ and in Paddington, Brisbane, relocating there after a stint in Tasmania.
ArtGroupie 2008 included the song Shih from the EP, and photography.
1991 – 1997 – SWIRL
Swirl began as a three-piece band, guitar, bass and drums. We released music through record companies, Half a Cow Records, Regular Records, Festival Records, Dirt Records (US), Kitty Records (Japan).
A publishing deal with Universal resulted in songs being included in the movie Blackrock, and in the TV series, Good Guys, Bad Guys.
We played locally and nationally with occasional big support slots with international acts including My Bloody Valentine and The Lemonheads. Also played at iconic Australian Festivals the Big Day Out and Livid.
In 1993, we recorded The Last Unicorn in Sydney, and mixed the album in Boston, followed by an East Coast tour, and in 1994 we toured more extensively, doing 25 shows in 30 days on the college music circuit beginning in New York and finishing in San Francisco.