Swirl Albums/EPs/Singles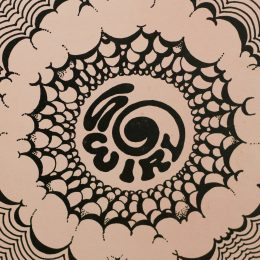 SWIRL – 1991 – 1997
Swirl began as a three-piece band, guitar, bass and drums. We released music through record companies, Half a Cow Records, Regular Records, Festival Records, Dirt Records (US), Kitty Records (Japan).
A publishing deal with Universal resulted in songs being included in the movie Blackrock, and in the TV series, Good Guys, Bad Guys.
We played locally and nationally with occasional big support slots with international acts including My Bloody Valentine and The Lemonheads. Also played at iconic Australian Festivals the Big Day Out and Livid.
In 1993, we recorded The Last Unicorn in Sydney, and mixed the album in Boston, followed by an East Coast tour, and in 1994 we toured the US more extensively, doing 25 shows in 30 days on the college music circuit beginning in New York and finishing in San Francisco.
On My Own EP (1996)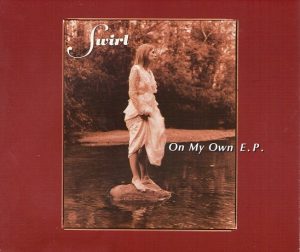 Tracks
On My Own
The Heart Thing
The Laughing Cloud
April
Recorded and Mixed by Tim Whitten at Q and Mirage Studios
Mastered by William Bowden at Festival
CD release Half A Cow/Mercury/Polygram Records 578 449-2 (HAC57) 1996 (Australia)
Photography/Art Direction: siren
The Last Unicorn EP (1995)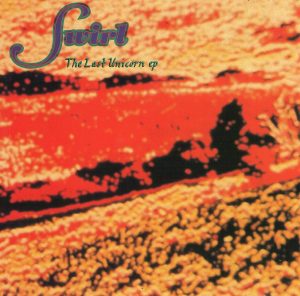 Tracks
The Last Unicorn
The Goodbye Soldier
The Ship Song (Cover – Nick Cave and the Bad Seeds Song)
Calling Occupants (Cover – The Carpenters Song)
Track 1 taken from The Last Unicorn album
Tracks 2 & 3 – Recorded & mixed at Damied Gerards Studio by Russell Pillings, 1995
Track 4 – Recorded for Australian Carpenters compilation that never happened, 1992
Mastered by William Bowden at Festival
CD release Half A Cow/Mercury/Polygram Records 856 7172 (HAC39) (Australia)
CD Photos by Peter Howard
The Last Unicorn album Re-release (1995)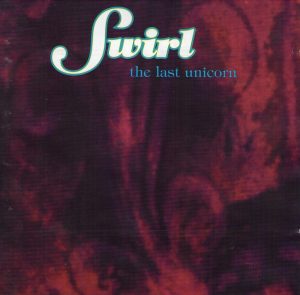 New track order
Strangelands
Tailor's Eye
Chains
Night of the Unicorn
Ice Passage
The Last Unicorn
Going Home
Poppel Grave
Yesterday Blue
Dark Star
II Eternity
Hyperon Crash
CD Re-released Half A Cow/Mercury/Polygram Records 5282812 (HAC30) 1995 (Australia)
CD layout by Jeff Young, Michele Wood
Band photo by Tony Mott
The Last Unicorn album (1994)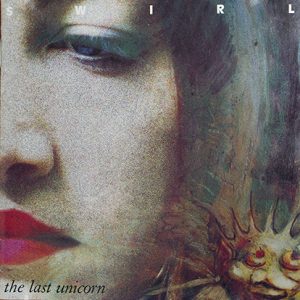 Tracks
Strangelands
Dark Star
II Eternity
Yesterday Blue
Hyperon Crash
Tailor's Eye
Chains
Night of the Unicorn
Ice Passage
The Last Unicorn
Going Home
Poppel Grave
Produced by Ben Aylward and Swirl
Engineered by Mark Thomas at Festival Studios
Additional sounds: Sarah Peet: Cello, Lara Goodridge: Violin
Tracks 4, 6-8, 11, 12 mixed at Fort Apache Studios, Boston, MA by Lou Giordano
Tracks 1, 2, 5, 10 mixed at Sony Studios, Sydney by Tim Whitten
Tracks 3 & 9 mixed at The Lab by Tom Kazas
Mastered by William Bowden at Festival Records
CD Release
Half A Cow/Regular/Festival Records D 31161 (HAC30) 1994 (Australia)
Kitty Records KTCM-1014 1994 (Japan)
CD layout by Jeff Young, front cover photograph by Ben Aylward
Paintings by William Aylward, Band photograph by Paddy Engelen
Touch EP (1993)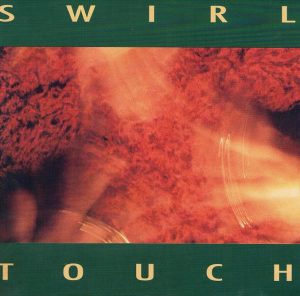 Tracks
Fade Away
Tide
Find Your Life
Atomic
She Goes
Afraid
My Small Life
Tears
Tracks 1-4 Recorded at Paradise and Powerhouse Studios, Mixed at Rich Studios
Produced by John Hresc & Swirl
Additional Sounds: Julian Knowles
Tracks 5-8 from Aurora 8-track mini album
Produced by Nic Dalton & Swirl, Engineered by John Hresc
Mastered by William Bowden at Festival
CD and cassette release Dirt Records DRT004 1993 (US)
CD Design by Jay Manby, front cover photograph by Nicola Schultz
Fade Away 7″ (1993)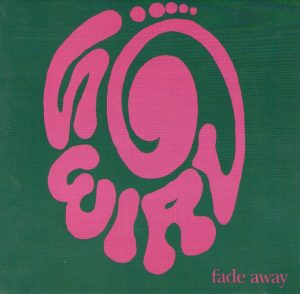 Side A: Fade Away
Side B: People I Know
Vinyl release (Red) Dirt Records DRT-002 1993 (US)
Design and production by Lara Mondae
Touch EP (1992)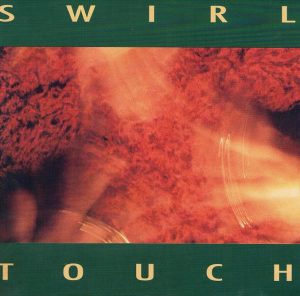 Tracks
Fade Away
Tide
Find Your Life
Atomic
Recorded at Paradise and Powerhouse Studios, Mixed at Rich Studios
Additional Sounds: Julian Knowles
Produced by John Hresc & Swirl
Mastered by William Bowden at Festival
CD release Half A Cow/Mercury/Polygram Records  D11421 (HACCD15) 1992 (Australia)
CD Design by Jay Manby, front cover photograph by Nicola Schultz
Fade Away (1992)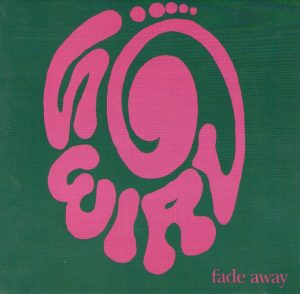 Tracks
Fade Away
She Goes
Kaleidoscope
Breathe
Wicked Man
CD release Dirt Records DRT003 1992 (US)
Design and production by Lara Mondae
Tears CD Single (1992)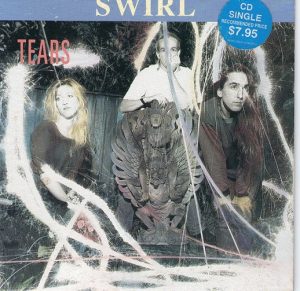 Tracks
Tears
Wicked Man
In My Eyes
Track 1 Engineered & Mixed by John Hresc
2 & 3 Engineered & Mixed by Colin Wright
Produced by Nic Dalton & Swirl
CD Release Half A Cow/Regular/Festival Records D11284 (HAC CD07) 1992 (Australia)
CD photography by Stephen Liddell
Aurora 8-track mini album (1992)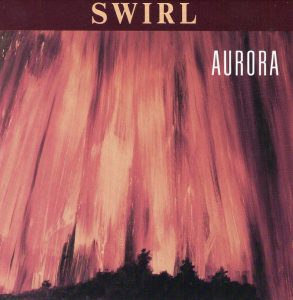 Tracks
She Goes
Tears
My Small Life
Afraid
Kaleidoscope
The Chase
Breathe
People I Know
Produced by Nic Dalton and Swirl
All songs engineered and mixed by John Hresc at Powerhouse Studio,
except "People I Know" engineered and mixed by John Cobbin at Moonlight Studio
"Tears" and "She Goes" mixed at Rich Studio
CD Release Half A Cow HAC CD06 1992 (Australia)
CD Layout by T.Butt/L Betteridge
Cover painting by William Aylward, Band Photo by Robyn Murphy
People I Know 10″ vinyl EP (1991)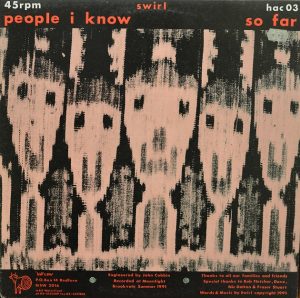 Side A (45 rpm)
People I Know
So Far
Recorded at Moonlight Studio Summer 1991, Engineered by John Cobbin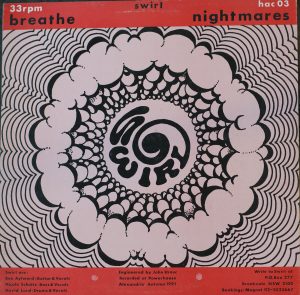 Side B (33rpm)
Breathe
Nightmares
Recorded at Powerhouse Studio Autumn 1991, Engineered by John Hresc
Produced by Nic Dalton
Vinyl release Half A Cow Records HAC03 1991 (Australia)
Artwork on Side B by William Aylward